Today we spend as much as 68 percent of all digital media time using smartphones or tablets which only leaves 32 percent for using desktop computers. Not paying particular attention to mobile visitors is a wasted opportunity at best and a real threat to the business at worst, especially if the closest competition focuses on mobile. Device intelligence is an essential asset to get the most out of your mobile channels.
Understand and Address Your Mobile Audience
Device intelligence relates to a set of techniques for detecting connected devices and identifying their properties for business intelligence and web optimization purposes. Knowing everything about devices that your audience is using helps you better understand potential buyers and existing customers.
This is an extremely valuable asset used by most of the big players in the online space, including Google, Facebook, Twitter, Amazon, and many more.
Device Fragmentation Creates a Complex Mobile Landscape
Gartner recently reported that 99.6 percent of new phones shipped in Q4 2016 either used Android or iOS. With this in mind, you may get the mistaken impression that device fragmentation is not an issue and that you no longer need to address a variety of mobile devices on the market.
Today, the number of distinct connected device types, models, makers, screen sizes, screen resolutions, mobile browsers, etc. is truly immense. These characteristics can dramatically change how, when and where people interact with their devices.
An example of device intelligence-based insight for analytics and optimization purposes.
A good example is user context. Laptop and desktop computers are typically used in an office environment, while tablets, smart TVs, and gaming consoles are used at home. For smartphones, it can be anywhere, including home, office, as well as "out and about." The user context may also depend on input methods which vary according to the device, from mouse and keyboard to touchscreen, to remote control, even to gaming controllers.
These insights are an excellent source of information that is typically used for powerful user segmentation at every stage of the buying cycle, allowing for data-driven business decisions.
Device Intelligence for Web Optimization
Detailed knowledge of all visiting devices is widely used for web optimization to ensure that all content works and looks great regardless of the screen size, connectivity, and hardware. Web performance and user experience (UX) on mobile are the two most common reasons why big players abandon the one-size-fits-all approach and instead adapt content to address differences between connected devices:
Web Performance
According to Google, average loading time on mobile is as high as 19 seconds. This is a real problem, given that 53 percent of mobile users abandon websites that take longer than 3 seconds to load.
You can tackle this issue by loading content selectively. Serving the exact same web content to every device, big or small, is inefficient and misses the opportunity to better serve your user.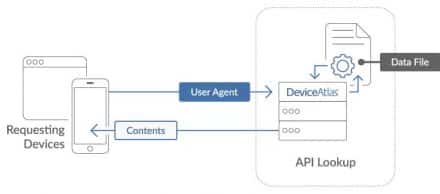 Device detection in the web environment.
To improve web performance on all device types, especially on mobile, it's best to make sure that all content sent to a device is carefully optimized for that particular device, and that no unnecessary content is loaded. This approach can dramatically improve loading times and reduce page weight which optimizes the amount of bandwidth needed to access the website.
UX Optimization
Gone are the days when users were unwilling to make purchases on their phones due to a small screen size and security concerns. Screens have grown to over 5-inch, touchscreens are now really responsive, and the security level on mobile can be as good as on desktop. What is worrying is the fact that conversion rates on mobile are a lot lower than on desktop. According to Monetate, as much as one-third of users switch to a different device to complete a purchase process started on a smartphone.
Device intelligence can be used to dramatically improve UX on mobile, and thus boost conversion rate, user engagement, pages per session, as well as reduce bounce rate. Depending on the type of device and its capabilities, UX designers can optimize forms, search, navigation, CTAs, and build a consistent experience across all platforms.
With server-side detection, you can select the right website components that work and look great on the user's device. At the same time, those website elements that won't work or look great may not be loaded at all. For example, some desktop-focused, pop-up ads may be omitted on selected devices.
Device Intelligence for Analytics
Understanding how visitors interact with online content at device level makes it possible to ensure that all areas of your business—marketing, operations, support—are addressing audiences optimally, maximizing engagement and revenues.
Device data is integrated with web analytics solutions which scrutinize server logs to build a picture of historical traffic or establish the volume, breakdown, and frequency of visits from mobile and other device types to your site. It makes it possible to compare analytics across different channels, identify opportunities and resolve issues based on device characteristics.
Device intelligence also provides an excellent insight for analyzing campaign performance in the advertising space. It helps companies analyze campaign results at the device level and then optimize them based on that knowledge.
DeviceAtlas, a device intelligence provider, partnered with geolocation experts from Digital Element to provide customers with rich data on Carrier ID which can be returned with DeviceAtlas API calls. This information is typically used for analytics, business intelligence, and ad targeting purposes to build an even more detailed picture of the audience.
Visit the DeviceAtlas blog for the latest news and insights on today's mobile device landscape and how-to guides helping you implement device detection in your environment.
Guest Author: Pawel Piejko, marketer at  DeviceAtlas