Cybercrime is on the rise, with it projected to cost businesses worldwide $10.5 trillion by 2025.
Cybercrime affects large corporations to small mom-and-pop shops. Just recently, Uber's network was breached, and sensitive company data was leaked to the public, showing anyone is at threat. However, nearly half of all attacks are aimed at small businesses.
The results of a successful cyberattack range from monetary loss to reputational damage. Therefore, businesses worldwide need to know what they can do to keep their networks and systems safe.
We have gathered data from trusted cybersecurity reports to shed light on the cost of cybercrime on businesses and the need for reliable cybersecurity solutions.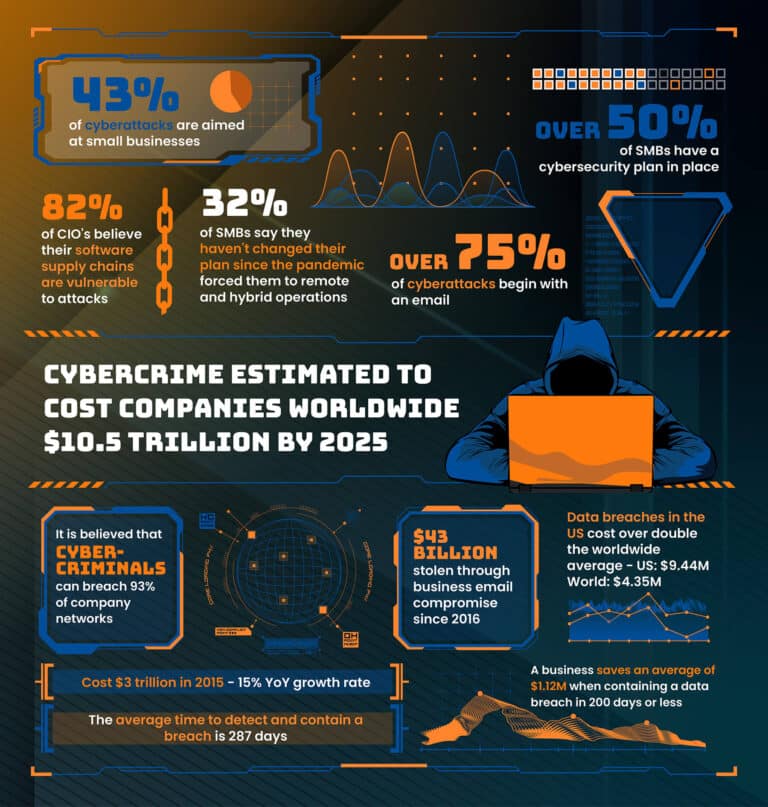 How much do data breaches cost?
Cybercrime is a trillion-dollar industry. A single data breach on a company costs an average of $9.44 million in the U.S. Unfortunately, the initial financial loss is just the beginning; data breaches can also harm a business's reputation and lead to a loss of current and future customers. This can be particularly hard for small and medium-sized businesses (SMBs) who may not have the necessary resources to weather the reputational fallout of a successful data breach.
How long does it take to detect a data breach?
Threat actors and their tactics get more sophisticated by the day. As such, effectively preventing every single attack on a company is near impossible.  Businesses need to have protocols in place to detect and contain breaches as quickly as possible. It takes an average of 287 days to contain a breach. However, if a business can contain a data breach in 200 days or fewer, they stand to save $1.12 million on average.
IP threat intelligence is one way businesses can mitigate the damage of a successful attack. While IP data intelligence won't stop cybercriminals from trying to attack your network, it will give you the insights needed to make informed decisions to keep data safe and mitigate damage if an attack is successful in breaching your defenses.
How prepared are companies for data breaches?
The pandemic was a blessing in disguise for threat actors. As businesses worldwide switched overnight to remote and hybrid working models, cybercriminals found themselves with a wealth of new network vulnerabilities to exploit. Unfortunately, years later, many businesses still haven't updated their cybersecurity protocols to reflect these new working models. In fact, 32% of SMBs say they haven't changed their cybersecurity plan since the pandemic forced them to pivot to remote and hybrid working operations.
Another issue businesses face is cost. Nearly a third of network security professionals say they don't have the budget to effectively defend themselves against attacks. Furthermore, just half of SMBs have a cybersecurity plan in place.
Cybercriminals are constantly improving and trying new tactics to gain access to sensitive data for their own personal gain. Unfortunately, they don't care about the devastating effects these attacks can have on businesses and their customers. We hope these alarming statistics help raise awareness about just how damaging cybercrime can be and will inspire people to take action to ensure their networks and systems are secure.
Sources:
https://www.bleepingcomputer.com/news/security/uber-suffers-new-data-breach-after-attack-on-vendor-info-leaked-online/
https://www.globenewswire.com/news-release/2020/11/18/2129432/0/en/Cybercrime-To-Cost-The-World-10-5-Trillion-Annually-By-2025.html#:~:text=Every%20U.S.%20business%20is%20under%20cyberattack&text=18%2C%202020%20(GLOBE%20NEWSWIRE),%243%20trillion%20USD%20in%202015
https://www.ibm.com/reports/data-breach
https://www.techrepublic.com/article/security-executives-say-unprepared-threats-lie-ahead/
https://venturebeat.com/security/report-average-time-to-detect-and-contain-a-breach-is-287-days/
https://www.accenture.com/us-en/insights/security/invest-cyber-resilience
https://upcity.com/experts/small-business-cybersecurity-survey/